Category of press stamping process
Tandem process
Several presses are laid out in tandem arrangement and one production line is composed.
Similar to a transfer process, each stage is equipped with an independent die. Normally, an operator places a product each time.
Sometimes robots or other carrier devices are used to feed products automatically.
This process is fit for low volume production or a short process. Because of each press standing alone, flexible production is allowed.

Progressive process
All processes are assembled in a die and this is set up in a progressive press. Coil material is fed from one end of the press and the parts are stamped from one stage to the next leaving a certain amount of material.
A coil feeder is needed, but a complicated transferring mechanism is not required as with the transfer press. This allows a higher efficiency in production.
However, when parts are separated from the material, miss-match allowable is left.
This sometimes causes an ill effect on the function of the parts such as fatigue endurance. Thus, the die needs to be set up carefully.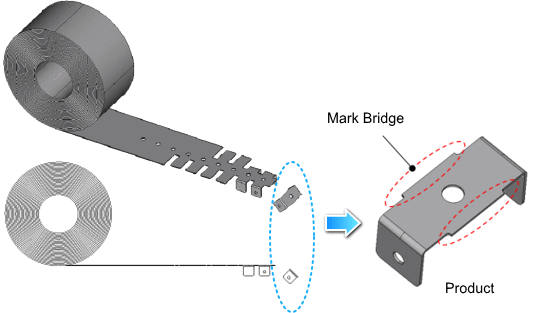 Transfer process
Carrier and fingers at each stage allows products to be transferred from one die to another in a press.
There are two types of fingers. One is 2 axis feed (X and Y) that moves horizontally and the other is 3 axis feed (X, Y, and Z) that moves in three dimensions.